Alaska Bear Viewing Tours
We offer fully guided Alaska bear viewing tours by boat. You will either depart from Anchor Point or Homer Alaska (depending on weather conditions) and we will take you across beautiful Cook Inlet to Chinitna Bay Loated in Lake Clark National Park.
Then its just a short walk up the beach to a grass marsh where we will be viewing brown bears by the dozens as they congregate to feed on the tidal sedge grasses.
On one of our Alaska Bear Viewing Tours you may see anywhere from 12 to 20 coastal brown bears, big male boars, sows with up to 3 cubs spending time feeding on chum or silver salmon. During certain times of the season, usually in the months of July or August you may see them digging clams on the beach.
On the boat ride going and coming back from viewing the bears you will see pods of Orcas, Dahl Porposes, Sea Otters and many different Sea Bird Species as well as 5 active Volcanoes.
Alaska Bear Watching Adventure!
Call For Prices
Dates: June 1 – October 1
We now offer exciting bear viewing tours to Lake Clark National Park. We travel by boat on a scenic route across Cook Inlet viewing wildlife an whales and arrive on shore at the park.
Why Go on an Alaska Bear Viewing Tour by Boat Instead by Airplane?
1) More affordable than by airplane
2) Get to see more marine life such as Whales, Seals and Sea Lions
3) Certain conditions that don't allow a airplane doesn't stop us from going bear viewing.
Alaska Bear Viewing Tours
website for more details on the
Bears in Alaska's Lake Clark National Park.
Alaska Bear Viewing Tour Adventure!
Doing an Alaska bear viewing trip is one of the truly great wildlife life adventures you will ever experience.
When you see the Bears in Alaska's Lake Clark National Park on their home turf roaming the coastline catching salmon in the streams flowing into Lake Clark National Park or eating sedge grasses in the marshes adjacent to the coastline, its a time when you forget everything else and just soak in nature at its best.
Going by boat offers many advantages over going by airplane. You may see Orcas, Humpback Whales, Sea Otters and many species of sea birds like Puffins.
Going By boat vs an airplane also allows us to go on days when the weather doesn't permit Airplanes to fly. The boat ride is beautiful and affords us the opportunity to stop and view marine wildlife along the way.
The views in Cook Inlet are stunning and you will be surrounded by active volcanos, majestic mountain ranges, beautiful pristine bays and all that Alaska has to offer.
You have the opportunity when you arrive to view from a dozen to as many as 40 plus bears in one day!
See Majestic Brown Bears on Our Alaska Bear Tours
Brown / Grizzly bears are seen throughout Alaska except on the island south of Frederick Sound in Southeastern Alaska, the islands west of Unimak Island in the Aluetian Chain, and the Islands of the Bering Sea. The term "Brown Bear"is the common term used by Alaskans for bears found in coastal Areas. Their habitat is rich grasslands and Salmon filled streams offering a bountiful food source.
Brown bears and Grizzly bears are genetically the same, however they are called brown bears when they live in near coastal areas in proximity to coastal areas where there is more moderate weather and better food sources. Moderate weather means these bears do not den as long which means they eat more months of the year than their cousins the Grizzly.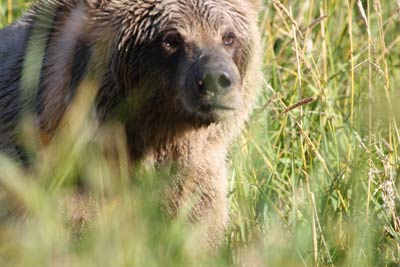 Grizzlies live in the inland areas and their habit is on mountain slopes and inland forests they are typically smaller in size than coastal Brown bears. Also "Grizzlys"are smaller cause they don't feed on the salmon rich rivers that Brown bears feed thru out the summer.
Black bears are found over most of the forested areas of Alaska except the Seward Peninsula. In many places such as on the Yukon/Kuskokwim Delta or north of the Brooks Range, Black bears can vary in color from Black to cinimon color. Black Bears are often seen in south central Alaska and southeastern mainland.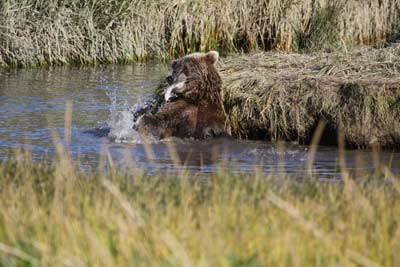 You will be MUCH closer up to the bears than than you would in Denali National Park. Call for Rates Don't miss this once in lifetime opportunity to see bears up close in their natural environment. See them fishing, playing, mating, and fighting in one of the worlds most beautiful places.
The drive from Anchorage to the start point of our bear viewing trips is a beautiful scenic drive where you can see some of Alaska's most popular destinations and beauty.
Take pictures of Dahl Sheep, Moose and even an occasional bear along the way. See the world famous boar tide along Cook Inlet and pass by the world famous Kenai River. *We can't guarantee the number of bears and marine life we see daily. There is walking involved, so having proper walking boots is a must.

CALL TO BOOK
Toll Free 800-478-9190
In Alaska 907-567-7345