Halibut Fishing Alaska
2 Halibut Limit for 2023
Good News! The daily bag limit for halibut in our fishing area (Area 3A) remains 2 per person per day with an annual limit of charter caught halibut set at 4 per year. You can keep one halibut of any size and the other the must be 28 inches or less. Book today and experience halibut fishing Alaska!
Halibut fishing in Alaska continues to be one of the most popular activities of residents and visitors alike. Halibut fishing is easy to do, and the reward when your done is, you will have some of the best eating fish in the world to take home for the freezer. There's nothing like wild Alaska halibut!
We can accommodate a large variety of fishermen, from the novice to experienced, and individuals to large groups. With years of experienced guiding fishermen we can tailor a trip to fit your needs.

Your Professional Guides For Halibut Fishing Alaska!
At Catch-A-Lot Charters, you will enjoy halibut fishing with our experienced, knowledgeable, licensed and insured guides. We will work hard and do everything we can to make your fishing trip as successful and enjoyable as possible. We include complimentary fish filleting as a part of every charter price. We can also vacuum pack your fish for a nominal additional fee.
Halibut and Salmon Saltwater Charter Rates
Halibut & King Salmon Combo Charter
May 1 – October 15
Target: Halibut and King Salmon.
Approximately 10 to 12 hours on the water.
Call For Rates

Halibut Charters
May 1 –  October 15
Target: Halibut only
Approximately 8 to 10 hours on the water.
Call For Rates

Long Range Combo Charter
July 1 – September 15
Target: Silver Salmon, Halibut, Ling Cod, Rock Fish  (Departs from Homer)
Call For Rates

Salmon Only or Salmon / Rockfish Combo Charter – Wednesdays Only
June 15 – August 31
Fishing regulations changed this year and we cannot fish halibut on Wednesdays from June 15 to August 31. That means on Thursdays we will offer a choice of either salmon only or salmon / rockfish combo trips on Thursdays for 2016.
Target: Salmon, rockfish
Approximately 10 to 12 hours on the water.
Call For Rates

What's Included
Professional Guide
Personalized Service
Top Quality Rods
Top Quality Reels
Tackle and Bait
We Clean Your Fish
Custom River Boats
Plenty of Parking Space
Close to Other Attractions
What's Not Included
Fishing License
King Salmon Stamp
Gratuities
Fish Processing
7.5% Tax
Questions?
Let us know if we can assist you in booking your Alaska adventure.
CAll US
800-478-9190
907-567-7345
Things To Know While Halibut Fishing in Alaska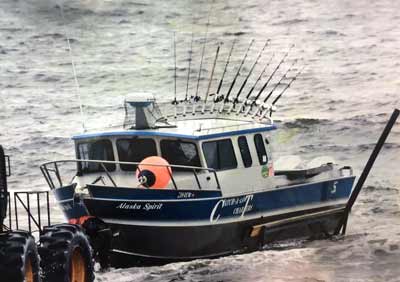 Our Boats
Each of our boats has twin outboards, heated cabins, and marine restrooms for your safety and comfort. We supply top quality fishing equipment for each person on the boat. Both boats are Coast Guard equipped for your safety and all captains are USCG licensed.
What To Wear
We encourage everyone to to dress warm and bring layers. Rain gear is also encouraged and waterproof shoes or knee boots are great to have but are not necessary. Our have warm dry cabins but all of the fishing happens out on the open deck.
The Weather
In May, temperatures range from the low 40s to as high as 70 degrees. June and July temperatures range from the 50s to the 80s. In the months of August and September, expect damp cooler weather with temperatures from the low 40s to the high 60s and more rain.
"Thank you very much for the great fishing trip. I won $1,440 when the Kenai Peninsula Tourism Marketing Council hosted the second annual halibut 100 fishing derby in Homer."
› More Testimonials
CALL TO BOOK
Toll Free 800-478-9100
In Alaska 907-567-7345