Things To Know
What To Bring
We provide all the rods, reels, tackle, and bait for your charter. You need to bring your fishing license, whatever you want to wear, and any food, snacks or drinks that you would like bring.
How To Dress
We encourage everyone to to dress warm and bring layers. Rain gear is also encouraged and waterproof shoes or knee boots are great to have but are not necessary. Our have warm dry cabins but all of the fishing happens out on the open deck.
The Weather
In May, temperatures range from the low 40s to 70 degrees. June and July temperatures range from the 50s to the 80s. In the months of August and September, expect damp cooler weather with temperatures from the low 40s to the high 60s.
Fish Cleaning
Free filleting of fish is included with your charter. We will also vacuum pack your fish for a nominal fee.
Fish Vacuum Sealing
We can vacuum seal your fish for an additional nominal fee.
Our Boats
Our USCG 5 star safety rated boats were built specifically for the waters of Cook Inlet, which makes the 30-45 minute run to the fishing grounds very comfortable and safe. Both boats have over 115 square feet of usable deck space which can comfortably fish six to eight people. Both boats also have heated cabins and an enclosed restrooms with flushing toilets.
The Alaska Spirit 2
The newest addition to our fleet, the Alaska Spirit 2, with it's wider platform and deeper "V" gives added stability and performance. The Spirit is a 30 foot Aurora with the following equipment: the Garmin 2010 GPS with a map of Cook Inlet, Furuno 24 mile radar, Furono 600L Color Fish Finder, Simrod radio, and twin Honda 200hp – 4 stroke motors. It also has the New Furuno Nav Net chart plotter with Bathermetric data of the ocean floor.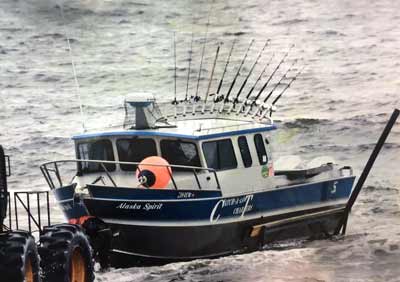 Safety Equipment
Both of the Catchalot boats have been awarded the USCG 5 star rating. All required USCG safety equipment is available on both boats, including type 1 adult and child's PFDs, a 30″ life ring and an EPIRB with hydro static release, which is an emergency locating device.

Our Gear
Our Fishing Tackle
We use top of the line Avet And Accurate Reels and G-Loomis Pelagic Alaska Series fishing rods. G-Loomis Pelagic Alaska Series fishing rods and Alaska Series rods by Penn that are built specifically for catching big fish. Reels are spooled with #150lbs Power Pro Line. We produce and provide our own premium quality fishing rigs with #500lb hand tied leaders, #500lb Stainless barrel swivels, 16/0, 18/0, 20/0 circle hooks. We use several types of bait, like premium grade herring, squid and salmon heads.
Salmon Fishing Tackle
We use G-Loomis Pelagic Alaska Series fishing rods and Lamiglass fishing rods with Penn 320 GTI reels. Rods are GL2s by G-Loomis and Lamiglass G – 1000 Series rods. Reels are spooled with #50lb Tough Line Plus. We have electric downriggers, Pink Lady deep divers and mooching rigs ready for any situation.

"very much for the great fishing trip where I won $1,440 when the Kenai Peninsula Tourism Marketing Council hosted the second annual halibut 100 fishing derby in Homer."
› More Testimonials
""The mountains were gorgeous and my fish was huge. I never thought I could bring in a halibut over twice my size…. and on my first charter!"
› More Testimonials
CALL TO BOOK
Toll Free 800-478-9100
In Alaska 907-567-7345